As many of you know if you read my yard salers newsletter, I snipe a lot when buying on eBay. I just got this email from AuctionSniper.com, the sniping service I use, that now their search will list Buy-It-Now items as well, and they will redirect the BIN items thru KickItBack so you can get cash back on those items.

If you want to sign up for KickItBack so you an get cash back too (and I'm sure you want to use my referral link if you do :) ), it's at:


KickItBack

















Here are the details: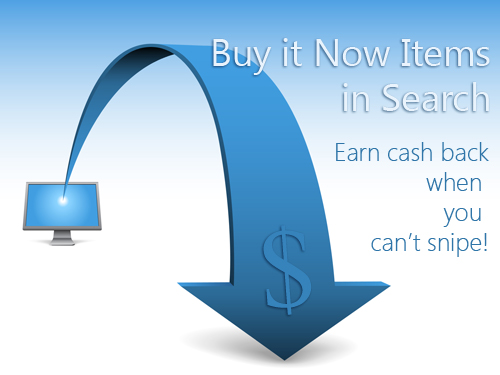 "Earn cash back on items you can't snipe using Auction Sniper Search!
Auction Sniper has always had
great search functionality
for auctions.
For some items though, there may be good Buy It Now deals too.
Now our Search will list those BIN items along with the items available for sniping to give you the best chance to get what you want and to earn cash-back rewards.
Buy It Now items redirect through
KickItBack
on their way to eBay. Just log in if you have a KickItBack account or quickly create a free account to get
cash back for your purchase on eBay
.
You can create searches from the
Search tab
or on the
My Snipes page
at the bottom of the snipes window. You can choose to run searches manually or we can search eBay automatically and email you at regular intervals."